Installing the Acronis agent is one of the last steps to getting your backups started.
When registering your Acronis agent you must be logged into the customer account via the Acronis console.
The following KB article will provide full in-depth steps and information regarding installing the Acronis Agent : https://kb.acronis.com/content/55052
An alternative manual for Acronis Cyber Protect regarding installing the agents can be found here : Installing Cyber Protection agents – Cyber Protection 
CloudEvo Tips for Agent Install
Downloading the Agent
We try and keep the following link updated to quickly and easily allow the downloading of the Acronis agent. Please note as the software is always updating this link may not be updated. Feel free to open a ticket with us anytime if you require a quick download to the latest agent.
Linux Server Agent Download :
US Console :
wget https://my.cloudevo.com/agents/CyberProtect_AgentForLinux_x86_64.bin 
EU Console :
wget : https://my.cloudevo.com/agents/EU-CyberProtect_AgentForLinux_x86_64.bin
Windows Server and Work Station Agent Download :
US Console :
https://my.cloudevo.com/agents/CyberProtect_AgentForWindows_web.exe
EU Console :
https://my.cloudevo.com/agents/EU-CyberProtect_AgentForWindows_web.exe
For Linux after the agent is downloaded please run the following :
chmod +x CyberProtect_AgentForLinux_x86_64.bin
./CyberProtect_AgentForLinux_x86_64.bin
Follow the on screen guide to complete the set-up.
Note that currently the Agent for MySQL/MariaDB requires an add-on license quota.  Database backup and restore is included in the normal base agent installer when used with a web hosting control panel like Plesk or cPanel. However, standalone backup and recovery for these will require an add-on. Please contact us if you require this feature.
Registering Agents
You must have created at least one customer account before you can register agents and get started with backing up your devices. You will need to be logged into this customer account when doing the following steps. Information regarding setting up your customer account can be found here : https://wiki.cloudevo.com/knowledge-base/creating-customers-and-tenants-inside-the-acronis-console/
After the installer completes it will ask how to you wish to register the agent. We have found opting for the Registration Via Code found within the console by selecting Devices > Add > Scroll all the way to the bottom.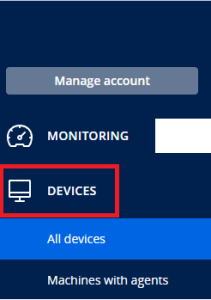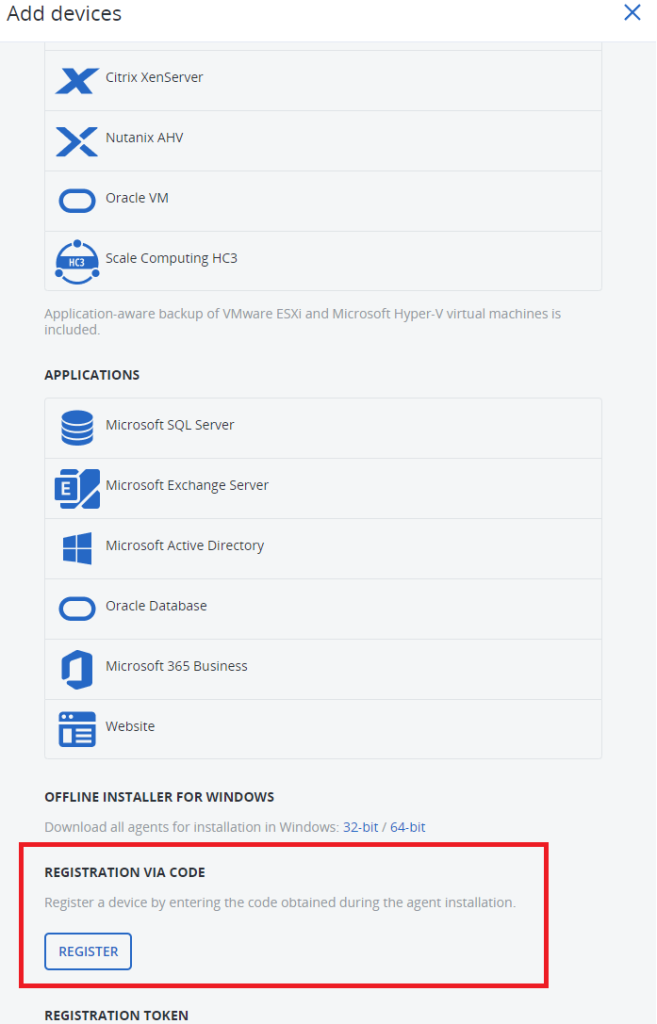 You will then enter the code shown on the agent installer screen. Once this is completed your agent should be installed and registered with your Acronis Console
Troubleshooting and Errors
When Installing the agent you may run into errors. The most common error we have found will be related to the installation of kernel-devel and gcc when installing on linux.
Run the following commands may help resolve any of those issues (please note the install command will change based on your linux OS)  :
yum install kernel-devel-$(uname -r)
yum install gcc
If you have errors or issues registering the agent please make sure ports 443 and 8443 are both open.
If you come across any issues or problems when installing or registering your Acronis agent please open a ticket with us in the Client Area of your CloudEvo account.
Need to backup your cPanel server next? Check out our guide : https://wiki.cloudevo.com/knowledge-base/acronis-cpanel-install-guide/